X Software: Photoshop CS3
X Difficulty: Beginner-friendly
Contents:
X Using actions
X Enhancing colors using channels in Lab-mode
X Downsizing using Bicubic sharper
You might like to use a fairly large image for this tutorial. If you haven't got one at hand, you can use
this one
or
this one
. I got both from
stock x change
.
This tutorial also explains how to use actions. If the tab isn't already open, you can find it by going to window – actions.
If you're not interested in creating actions, you can skip that part and go to Step 1.2 Color enhancing.
Step 1: Making an "action" out of your color enhancing.
1.1. Actions
With your image already open in Photoshop, click on your actions tab (1.) and then create a new set (2.). A window will appear where you can give your set a name. I called mine "My Actions". Your new set will automatically be selected, so you can create a new action (3.) and give it a name as well. I called mine "Color enhancing".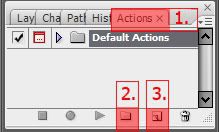 If you like, you can additionally create a keyboard shortcut out of your action.
After that, you hit the "record" button.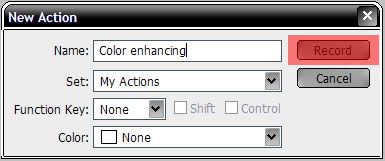 1.2. Color enhancing
Set your image to Lab color (image -> mode -> Lab Color) and then open your curves menu (ctrl + m). In there, go to your dropdown menu and select your a channel.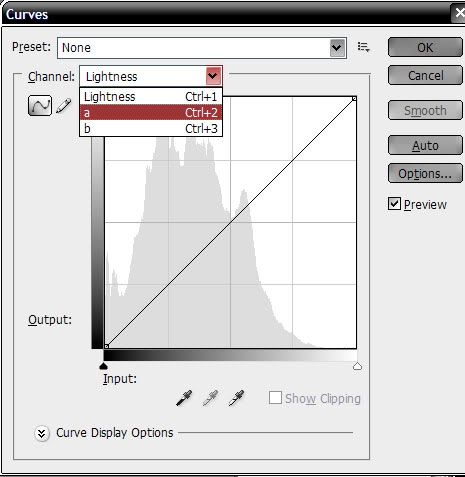 Drag the square at the top right-hand corner to the left, till it is approximately in the center of the top line of the first box. Then drag the square at the bottom left-hand corner to the right, till it is about in the middle of the bottom line of the first box.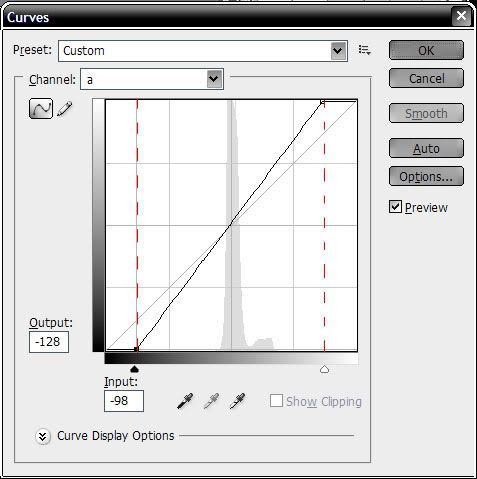 Repeat that step for your b-channel. In some cases a bit of brightening – sometimes even a darkening - of the image will be necessary. To achieve this, switch to your lightness-channel.
Click in the center of your grid. A square will appear. Using your arrow keys on your keyboard, move the square upwards slightly, to brighten your image, or downwards to darken it.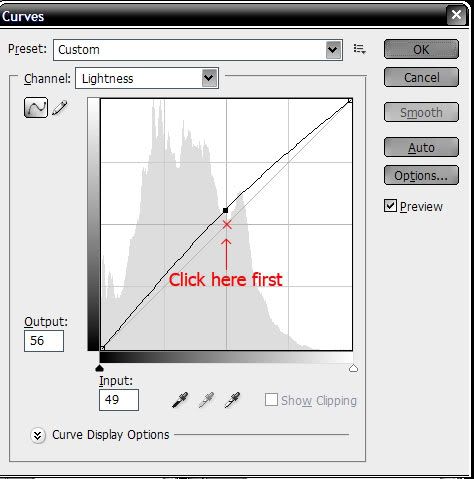 Once you are satisfied, click "ok" or hit enter. So basically, your first action is complete. Simply hit the "stop recording" button in the action menu.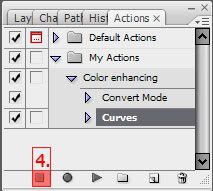 If you'd like to use this action on a different image, simply open your document, select your action and hit the play key in the actions window.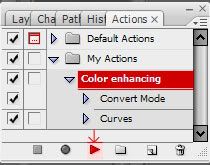 If you feel that the colors are a tad to brilliant, you can fade things out a bit. To do so, go to edit -> fade (curves, in this case) and pull the opacity slider to the left, till you are satisfied with the result.
Note that the changes when fading can be subtle, so not always very necessary. For this image, I used a fade setting of 70%.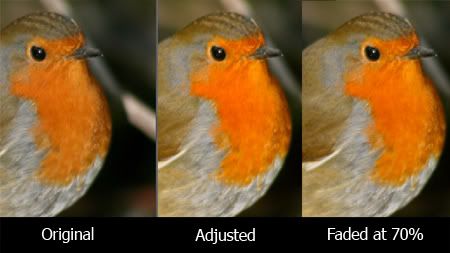 2. Downsizing an image without loss of quality.
The image of the robin is fairly large. Sometimes shrinking an image can cause loss of detail. The edges might end up blurry or fuzzy. Icon makers in particular will be acquainted with this problem. What often happens is that people crop and then sharpen the image, which can give it a slightly distorted, over sharpened or pixilated appearance.
To prevent this, you can tweak your downsizing options.
2.1 Downsizing
Go to image -> size (ctrl + shift + i). A window will open. In there, check the "resample image" box if it isn't already checked, then go to the bottom dropdown menu and select "bicubic sharper". This option will uphold the sharpness of your image when reducing its size.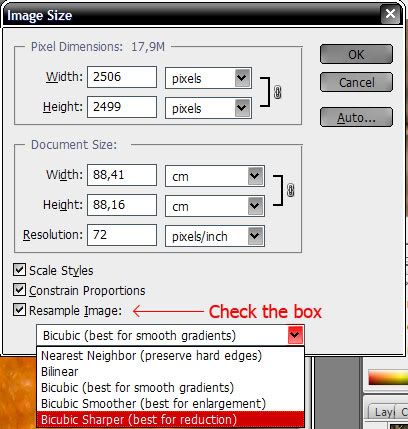 After that, you type in the dimension of either width or height, which you find best suitable for your needs.
Below you can see the difference for yourself. The image to the left was downsized using the "bicubic sharper" option. The one on the right was not.
(I reduced the width to 500 px and zoomed in to 200% for each example).
You'll see the difference quite clearly when paying particular attention the region around the eye and beak.
I hope you found this tutorial useful. Should anything still be unclear, feel free to comment and I'll do my best to clarify things for you.
How did you like this tutorial?
X No Selective Coloring